before
after
Paul Suchman, Chief Marketing Officer at Audacy, talked about changing their brand's name, the "Audacy Orange", and rebranding to meet the company's vision.
Can you introduce us to Audacy?
Audacy is a scaled, multi-platform audio content and entertainment company America's best radio broadcasting group, a leader in virtually every segment of audio, and the country's #1 creator of original, premium audio.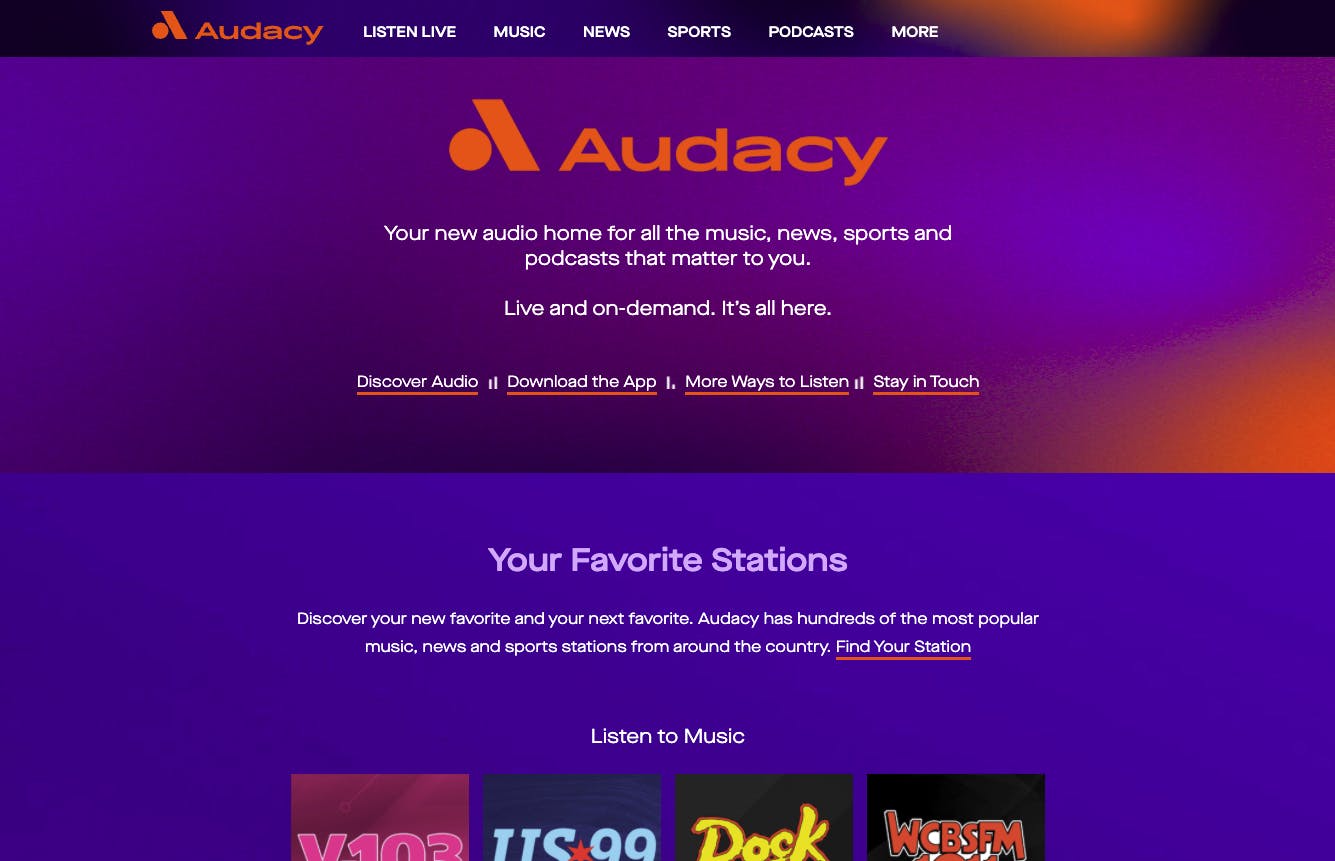 The new Audacy website
We engage over 170 million consumers each month, bringing people together around the news, sports, podcasts and music that matter to them.
What prompted your major rebrand to Audacy? How did that conversation start?
2020 gave us with an opportunity to take a step back and evaluate our company with a fresh perspective. What we found was that, following all of the investments we had made in talent, content and technology, our brand no longer reflected who we had become, nor our vision for the future. 
So, we seized that moment to build a strategy for re-introducing ourselves to our listeners, our advertisers and to our partners. To re-introduce our whole selves as an integrated multi-platform audio content and entertainment company. To position our company as the go-to audio platform for every audience we serve. 
We undertook a deliberate and careful process to develop our forward brand positioning, brand name, visual identity, and core messaging. That process led us to Audacy.
Among the most authentic values we bring to our listeners is that we help them feel connected in moments big and small. We do this through the content and experiences we create. Through personalities and influencers that they deeply trust. Through the depth of our local market knowledge. And because we know our communities better than anybody. 
That value also translates directly to our advertisers and to our partners. It was this insight that led us to the heart of our purpose. And that is enriching lives and enhancing communities through voices people trust and content they love.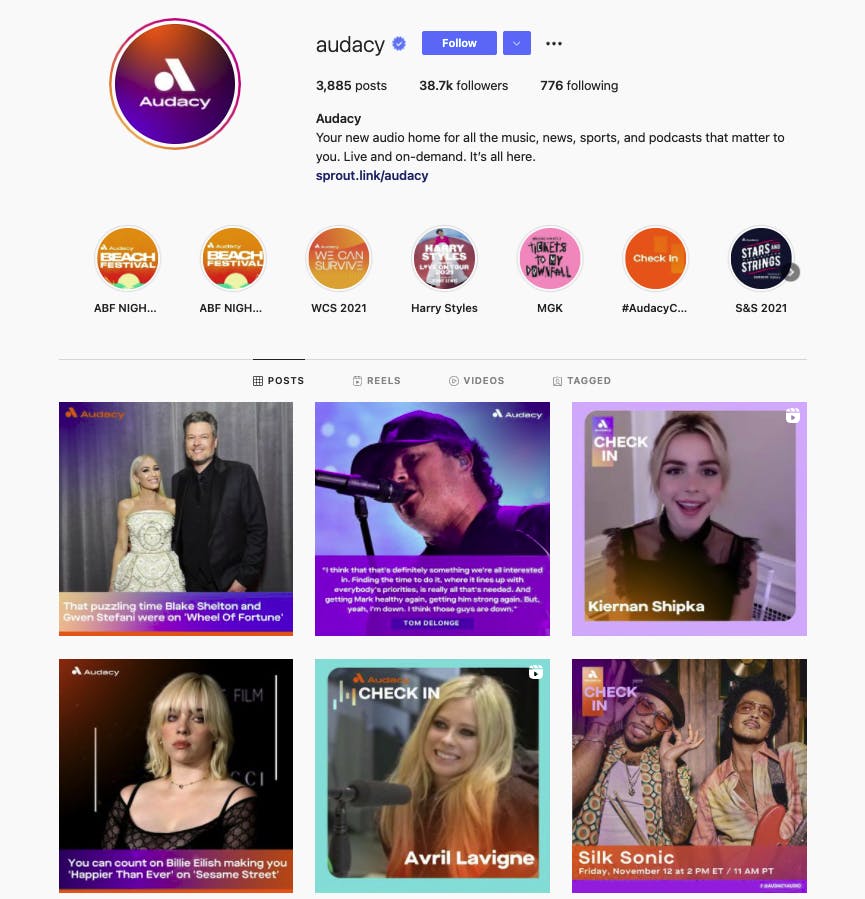 Audacy on Instagram
With the country's best collection of local music, news and sports brands, as a premium podcast creator, major event producer, and digital innovator, our people work tirelessly to deliver on this purpose every day.
We needed our brand to encapsulate this purpose, while also communicating the dynamic creativity and innovative spirit that fuels us. We needed a new identity that would reflect who we have become and our vision for the future.
Can you walk us through the process of your rebranding? What were the challenges you encountered?
2020 was a momentous challenge for both businesses and people. 
The biggest challenge that we faced from a brand transformation was that the entire initiative was completed and launched while our team and our partners were 100% virtual. That in itself is a major accomplishment for everyone involved.

Productivity, nor creativity, nor innovative thinking suffered because we were aligned in purpose and strategy. It was an amazing process from strategy to creative to execution that was a privilege to be part of.
Can you tell us more about the name? How did you land on the new name 'Audacy'?
We chose Audacy because of our unapologetic obsession and commitment to audio in every form. The name is part audio, part audacious, part odyssey. Our visual identity and messaging brought the name to life everywhere it met our listeners, advertisers, employees and partners.
Aside from the name, what other elements of the brand's visual identity changed?
Aside from the name, our purpose inspired our new visual identity. Powered by a distinct color palette, graphic sonic signature, and vibrant logo animation, our new visual branding is a tribute to sound. 
A brand needs a hero color. We chose a vibrant shade of orange — "Audacy Orange." Orange is the color of energy and creativity. It's also the universal color of passion. We definitely have these characteristics in abundance.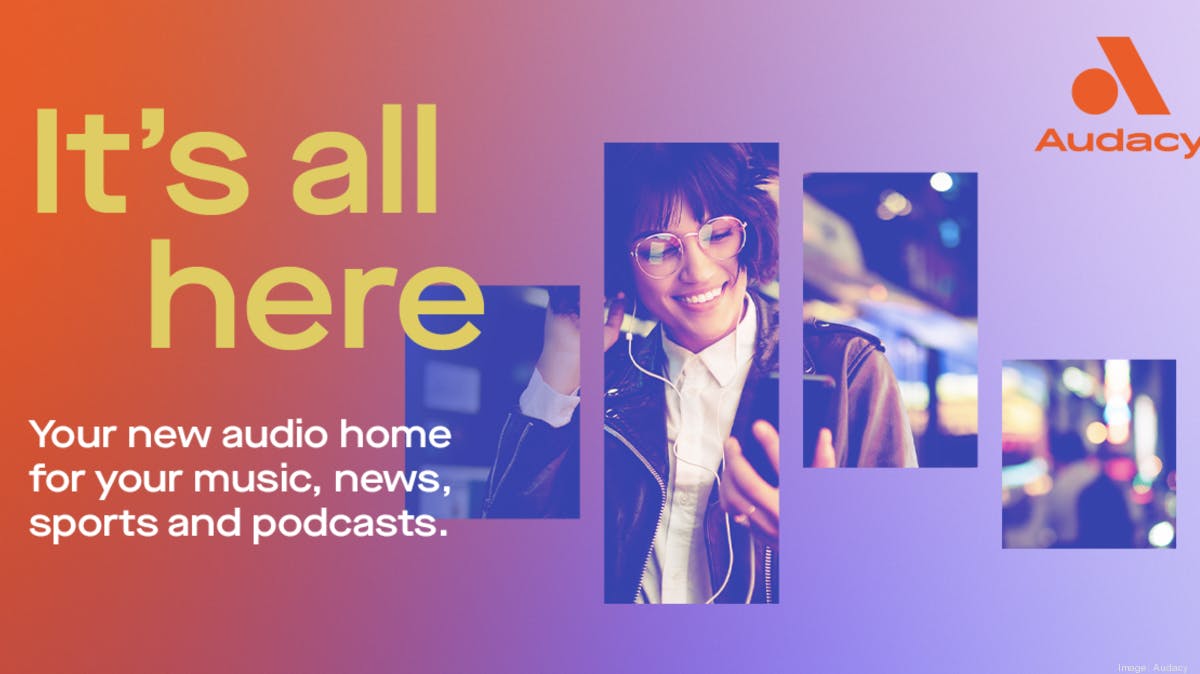 With an all new color palette
The color is like no one else in our industry. Very few companies can own orange…Audacy can. To support Audacy Orange, we built a dazzling and bold color palette to express ourselves clearly and with unprecedented style. 
And as an audio-first company, we also developed a sonic identity that's a memorable brand identifier, customized to fit perfectly into all of our platforms – whether that's news, country music, podcasts, or sports.
Altogether, the depth and flexibility of our brand elements allow us to communicate at every decibel.
We don't look like anyone else. We don't sound like anyone else. We are not like anyone else. We are in a category of one, at every touchpoint, everywhere we serve our listeners, and in every community we reach.
Our brand is a declaration – in our loudest voice – of what we've achieved, who we've become, and where we are going.
We'd love to hear the story behind your new logo. What does it mean or represent?
We created a logo that shows two fundamentally different shapes coming together, simply and elegantly.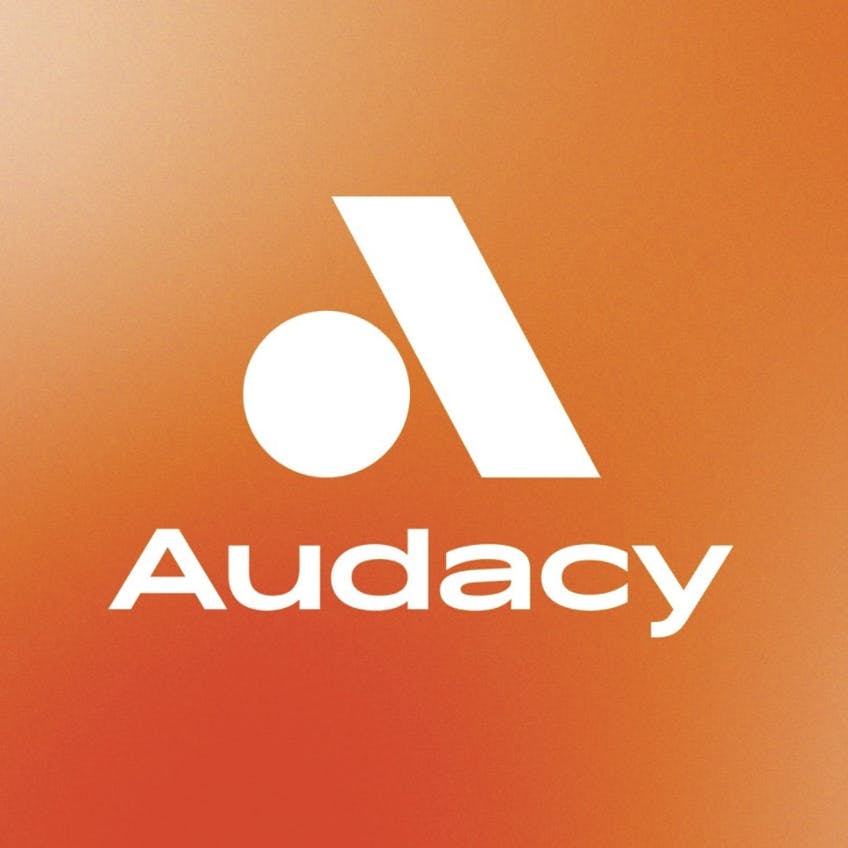 The new Audacy logo
The form of an A you can't miss. It's distinct, it's premium. It visually communicates the story of our purpose. And it looks phenomenal in every touchpoint that it's brought to life.
Is there anything you wished you knew before embarking on a major rebranding?
An identity project done well is not a change of sign. Rather it's a sign of change. 
After converting every single touchpoint inside and outside the company to Audacy, the real work began. And that was enrolling all of our loyal listeners, clients, partners and employees on our journey in a meaningful, thoughtful way.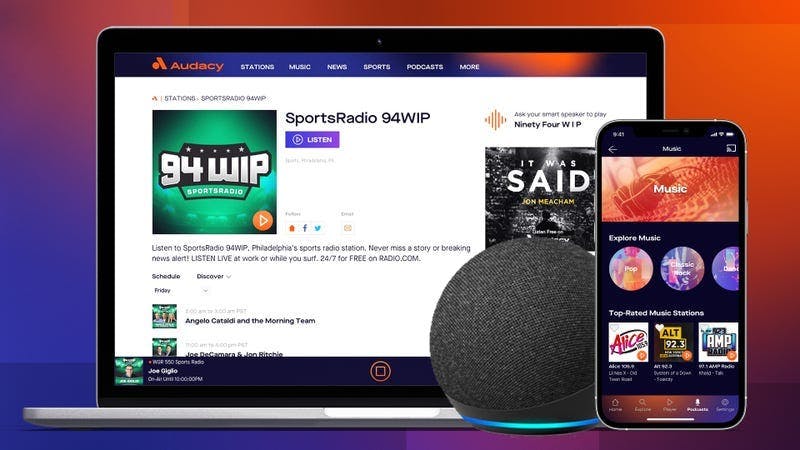 Converting every touchpoint is only the beginning.
The importance of doing that well and continuing to remain unwaveringly focused on it today cannot be overstated. For us it was and it remains among our most important priorities.
It's been a very exciting year for Audacy. We're emerging from the pandemic as a stronger and better-positioned company and accelerating our growth potential through a number of strategic opportunities – ones that will allow us to continue to drive innovation and development of new products, content, and capabilities. 
We will continue to build on and invest in our growth, move audaciously to capitalize on our scale and outstanding content offering, and drive improvements and innovation to better serve our consumers and partners. 
There is much to be excited about on the horizon, so be sure to stay tuned.