before
after
Jennifer Hiller, Head of Design at LEKI, shares the unique challenges of rebranding a 74-year-old family-owned business.
Can you introduce us to LEKI and the brand's identity through the years? How were the past brands conceptualized?
LEKI is a family-owned business founded in 1948. It's the leading sports equipment manufacturer for poles and pole glove systems. We develop and produce poles and gloves for diverse sports activities like Alpine skiing, cross country skiing, trekking, or trail running.
We believe that no matter whether you're a professional or recreational athlete, everyone can go beyond themselves and achieve more with our products. Since the beginning, we've been driven by a passion for sports. 
LEKI is a hotbed of innovation as well. We hold more than 270 patents. Our past brands were conceptualized based on technical innovation. Innovation is key in our values, and not only in the engineering context.
We're a forward-looking company. We observe and are future-oriented. As society evolves, so do we as a brand. Over the past years, we felt that the passion for the great outdoors, for sports, and our products must be more perceptible alongside our values of innovation, quality, and responsibility.
About this current rebranding, how did it come about? How did that conversation start?
We rebranded for several reasons. One is to meet people at eye level and share our passion and excitement.
Another is that the company has developed dynamically with structural changes at the management level. The people behind a brand change and shape it. As the people change, so must the brand identity. Our previous logo was also 33 years old. A stronger emphasis on design, communication, and product is also a result of this process.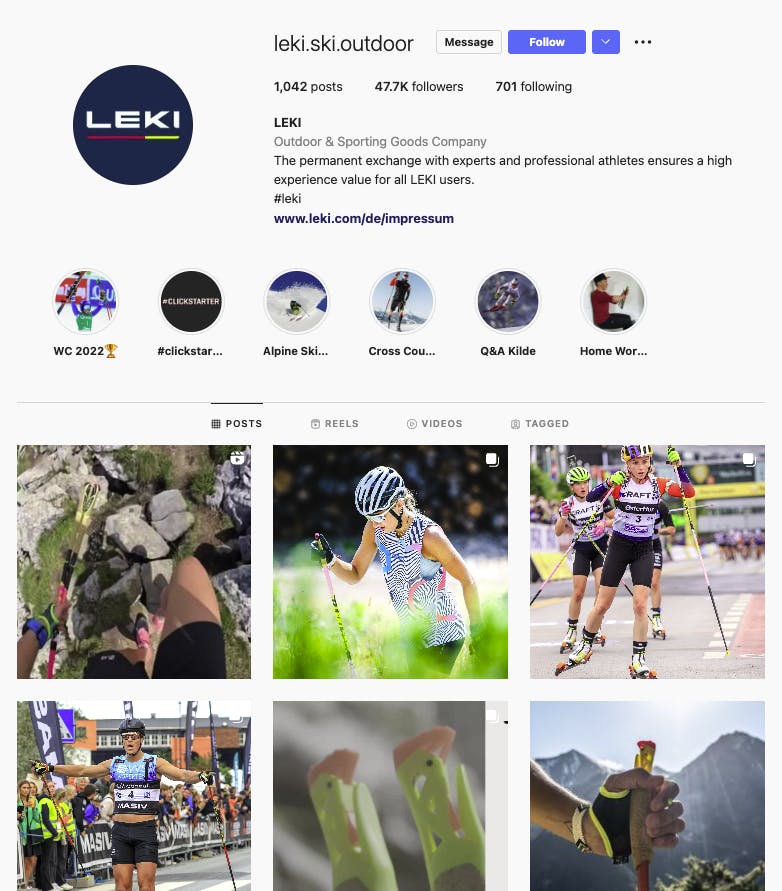 LEKI on Instagram
A third reason is expansion. As former ski pole specialists, we expanded our range to 9 product groups. In the Alpine ski racing world, for example, there are completely different requirements and tasks for a brand to fulfill than in Nordic walking.
The rebranding conversation started in 2018. In the beginning, it was more about the "simple" desire for a new logo. Then we decided to work with Munich agency, Mattweis. They started with analysing the status quo deeply before developing a brand strategy and designing the look.
How did the rebranding process go? Was it all smooth, or did you encounter challenges?
Of course we encountered challenges. I personally don't believe that a process like this can or should be "smooth". Especially in a family business like LEKI, there's a lot of emotional bond, personal attachment, and different experiences and histories.
Despite all the urge for change, modernity, coolness, etc, it's super important to listen to these stories and opinions. It's a tightrope walk.
Pleasing everyone can lead to a wishy-washy compromise. Nevertheless, we strived to take the people along with us on this journey. In the end, there are always different opinions about a rebranding and that's okay.
At a certain point it was crucial for us to develop the corporate design further internally with our in-house design team. Knowing that a professional agency might have done it differently, it was important for us to involve the employees.
A big change was to your logo. Can you tell us how it was conceptualized?
The former italic font derives from the dynamics of Alpine skiing. We wanted the logo to be versatile for our different categories, and to be a 'confident statement.'
The main part, the typography, is the great work of our partner, Mattweis. They conceptualized and designed it. The result is Roman, slimmer, and has very clear lines that reflect our demands for precision and highest quality.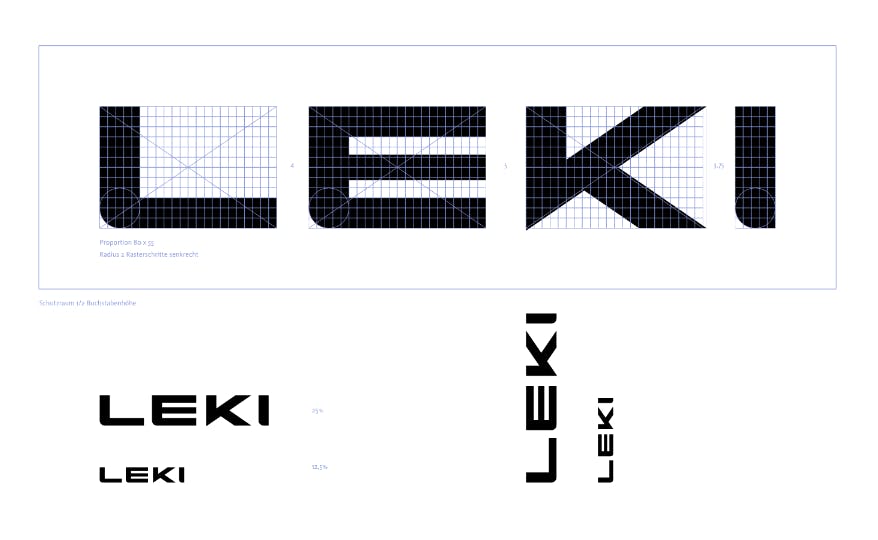 LEKI custom typography
The combination of rounded and pointed edges gives our logo the individuality it stands for. The so-called Race-ID in red-yellow picks up our previous corporate colors but in a reduced way.
Contrary to the frequent assumption that the colors stand for 'Made in Germany,' it simply is a reference to where we come from. The shape, as well as the colors, derive from our Alpine Racing poles.
You use custom typography for your brand. Can you tell us how it was developed?
After our logo was finished, Mattweis got to work on our tech logos. As previously mentioned, LEKI holds a lot of patented technologies, some of which date back almost 20 years. Others are only a few years old.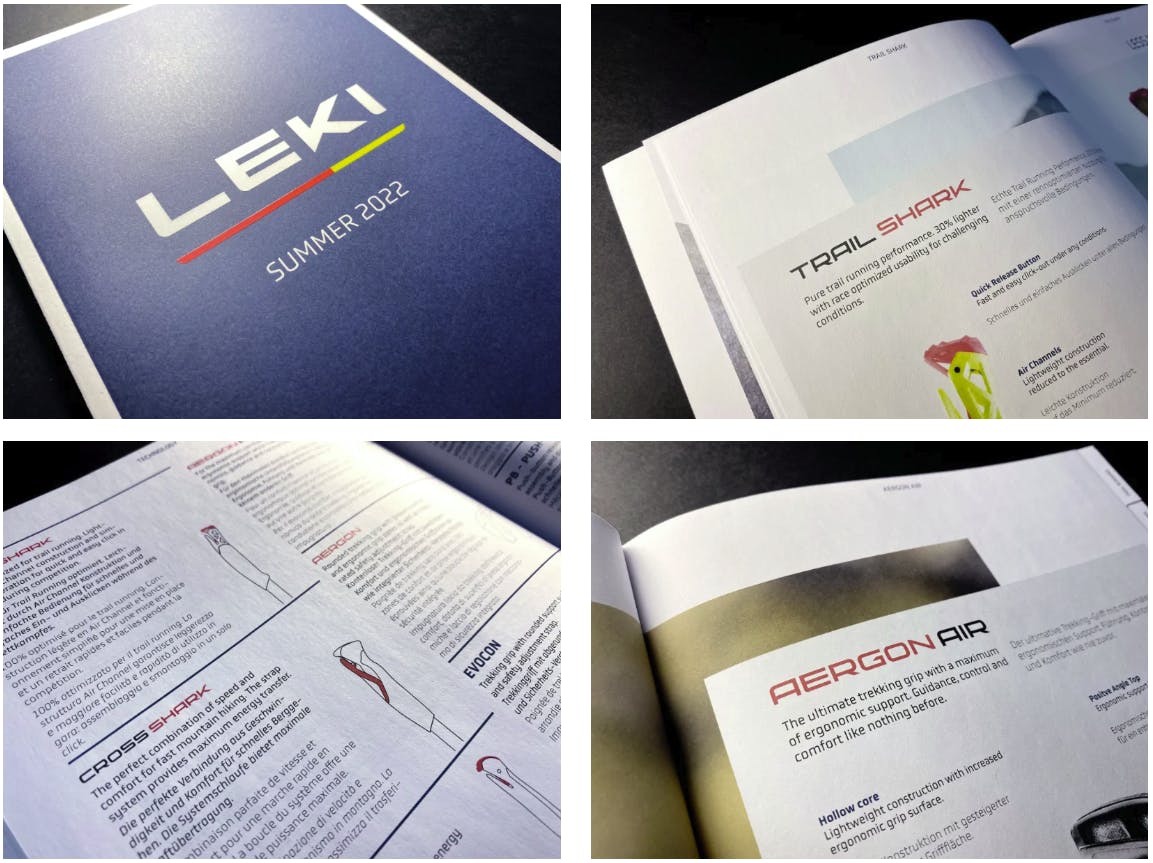 LEKI print materials
The look of the logos we use for these differ. That's the reason we asked Mattweis to design custom typography for these logos. It's clearly related to our main logo, but they're thinner.
How about LEKI's color palette? How did you land on these colors and what do red and yellow say about your brand?
For the Race-ID, these two colors date back to the 90s when our Alpine Racing poles became red, yellow, and black.
The combination was chosen because of the amazing visibility of our very thin products. One major difference to our old palette is that we added a dark blue.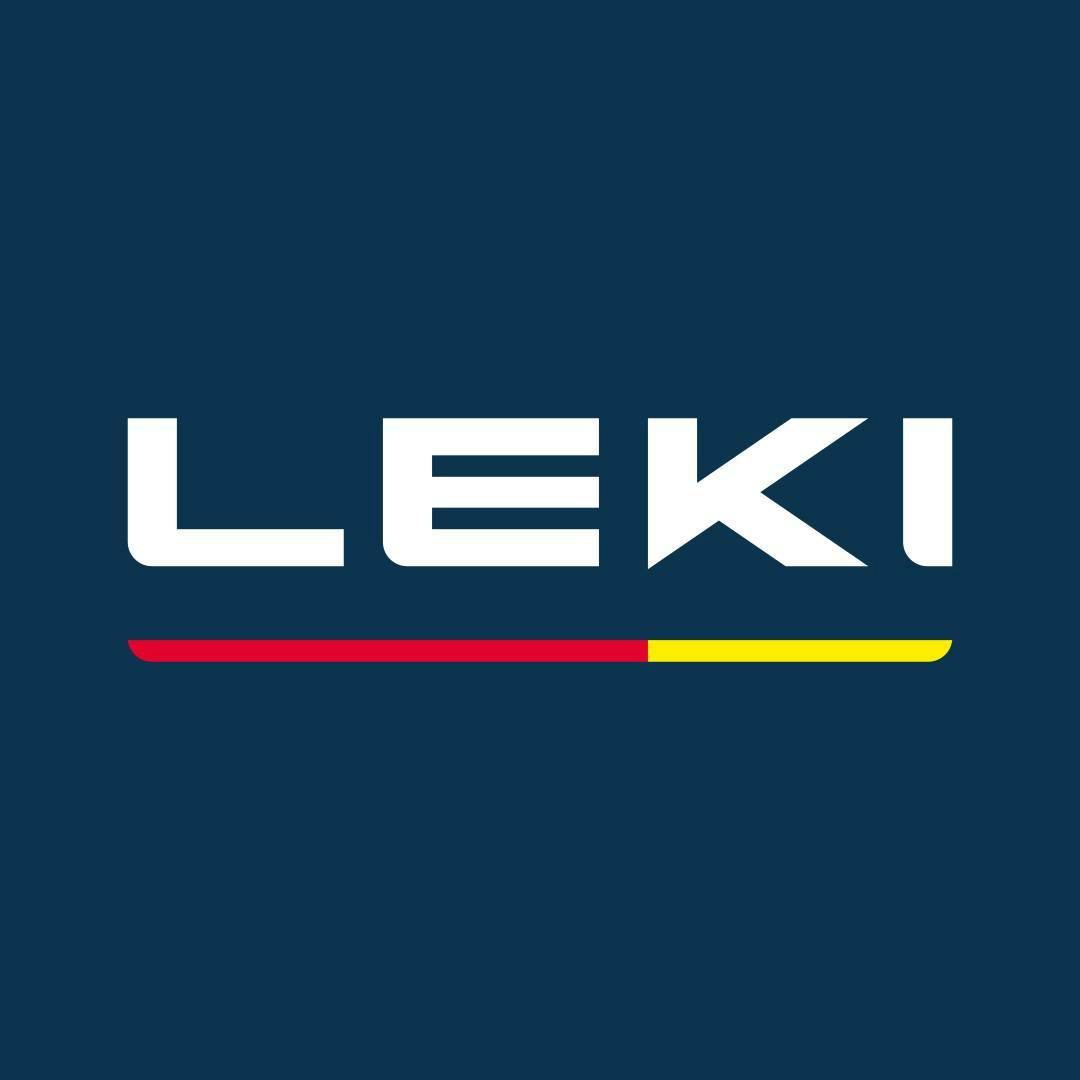 LEKI logo featuring the dark blue
Red and yellow is a very strong color combination, which of course can't be used excessively. We needed a color that calms it down. Our blue is harmonious and makes red and yellow more elegant.
What is your major takeaway from this experience? Or, do you have any advice for brands or designers embarking on rebranding projects themselves?
Generally I would say be patient.
As I mentioned before, people have very different emotional connections and perceptions of a brand, often for several decades. Their arguments and opinion won't be logical all the time. Don't try to convince them through designers' eyes. 
In my opinion, branding is never finished. It's an ongoing process. That makes it even more exciting, and perhaps also reassures some people that nothing is set in stone.
Prepare yourself that the process won't always be nice. Listen, be patient, and stay flexible. Try methods you've probably never tried before.