before
after
Gisli Brynjolfsson, Director of Global Marketing at Icelandair, talks about how their brand identity has changed with the times and shows the spirit of Iceland to the world.
Can you briefly share with us how Icelandair's brand identity has evolved through the years?
The brand that we're phasing out now was created in 2006. I would say that rebrand was done perfectly. It was an excellent brand refresh, but it had become outdated. 
In 2006, our brand assets were defined as Iceland, which made a lot of sense because we're called Icelandair; the image of Iceland goes hand in hand with Icelandair.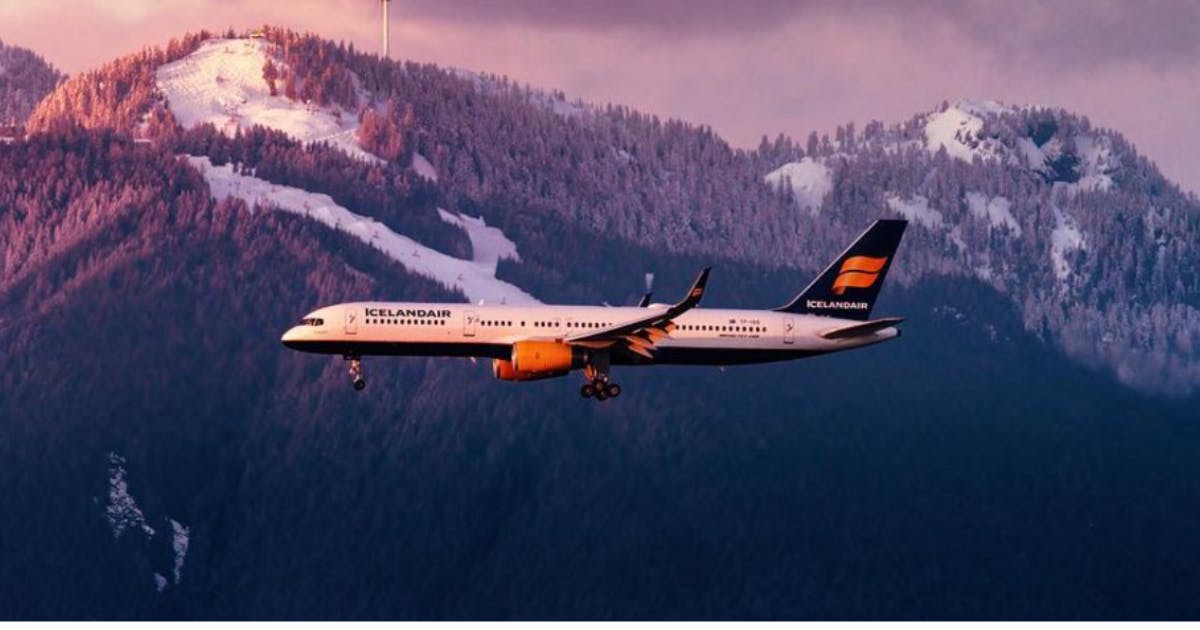 Icelandair's old branding. Photo from Icelandair on Instagram.
We're tweaking that a bit now because when you talk about Iceland, you go straight to the landscape. We changed that a bit. Now, we have defined the brand with the spirit of Iceland. 
When you talk about the spirit of Iceland now, you talk about the people, the culture, the atmosphere within the country. When you tell stories about the people, that's more interesting than talking about the landscape. 
Our vision now is to bring the spirit of Iceland to the world.
How did this current rebranding come about? How did that conversation start?
When I came on board in 2019, it was already decided by the board that we needed to take a look at the brand. The reason at the time had been because there are a few things that were putting some pressure on us to change from our 2006 rebranding.
First of all, the Icelandic culture has changed a lot since that time. I would say that it's much more relaxed now than in 2006. For example, until a few years ago, you weren't allowed as an employee to fly in jeans and sneakers. There were a lot of suits and ties at the time. The atmosphere now is completely different.
The corporate strategy had also changed, as had the commercial and competitive landscape.
We did a fair amount of competitor analysis and we saw that since 2006, all of our major competitors have done 1-2 major brand refreshes in that time. And they did those refreshes for the exactly the same reasons we're doing our rebrand now: the environment is screaming for a change.
But the most important change is the media landscape. In 2006, there was almost no social media and our approach was more traditional. Today, the brand's exposure is mostly through social media.
How did the rebranding process go? Did you encounter challenges?
We like to call this a brand refresh instead of a rebrand because we're not changing a lot. We're not changing the name. It's a very logical and practical change.
The brand iceberg we're using first determined our brand's origin, then our personality, then our vision, then our attributes, and then our brand essence.
The essence of our brand refresh is the spirit of Iceland. Everything we do is born out of being Icelandic.
Everything that we've done in this brand refresh is based on research and experiments. 
We started working on the brand refresh in 2018. In that initial analysis, we talked to our employees. Then we moved to corporate strategy in 2019 before going into brand strategy. We did a competitive analysis. We looked at everything our competitors were doing–the typography, the colors, the advertising, how they displayed their prices, their tone of voice–everything. 
We also did in-house focus groups and went through a very extensive target group analysis where we talked to over 60,000 travelers and identified 6 segments that we could target. Doing that had been a huge game-changer for us. If we hadn't done that, we would not be in the position we are now.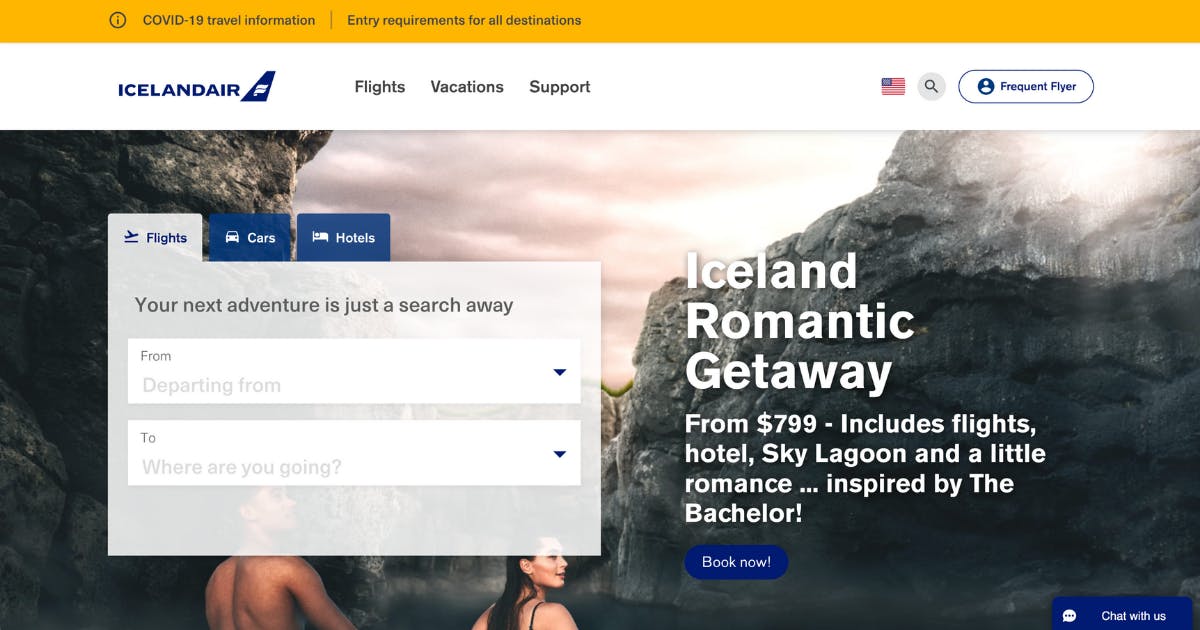 Icelandair website.
We were able to do experiments on different markets because we had time during the pandemic. In that time, we also developed our own Brand Awareness Consideration index where we measure how people are willing to travel with us. 
We tweaked the brand refresh according to all the data until it was time for launch. Up to this day, we're still tweaking.
Can you tell us the story behind the change to your logo?
We were going to use the old logo but we later decided that we wanted to change to logo a bit more because the ratio of the tail to the logo was too big. The letters were way too small.
We did a survey in Austin, Seattle, Copenhagen, and London where we showed people the icon and we asked them if they recognized the airline. The result had been that they were 3 times to 12 times more likely to get our name wrong compared with other airlines.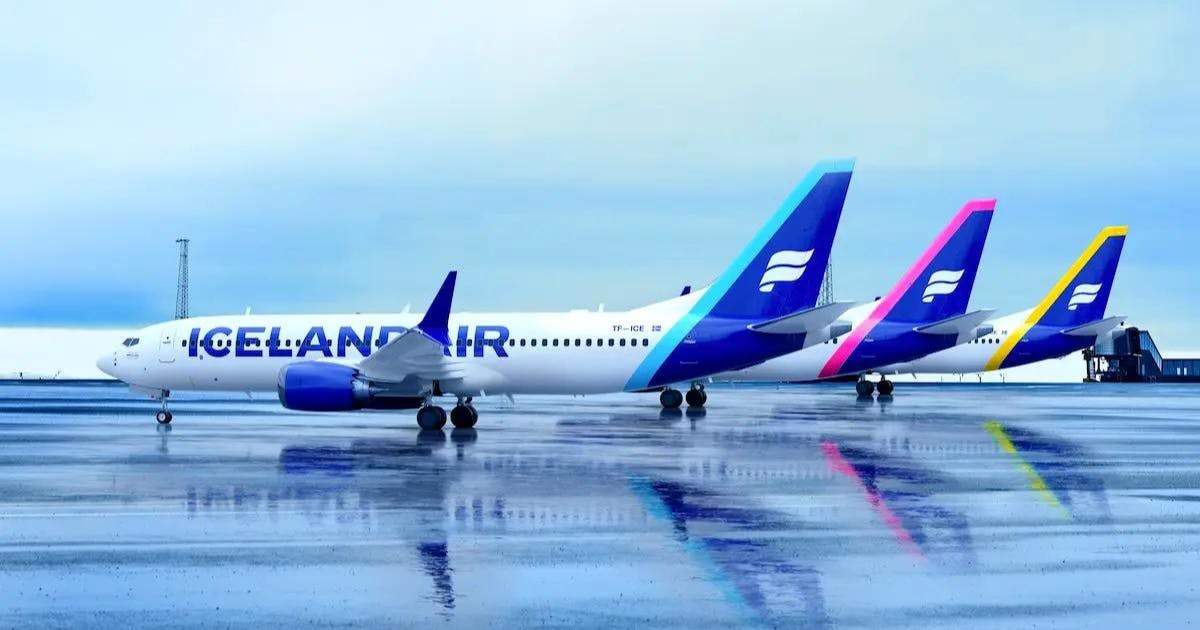 Icelandair planes with the new livery
The reason had been because the tail was very dominant and the name was way too small so we suggested a slight change to the logo to the board.
We removed the gold from the tail. This is because in the focus groups, we had people saying that blue and gold felt royal and Icelandic people are not like that. We're very inclusive. The distance between people here is almost none. It's a society of equals. We didn't want people to feel that it's royal.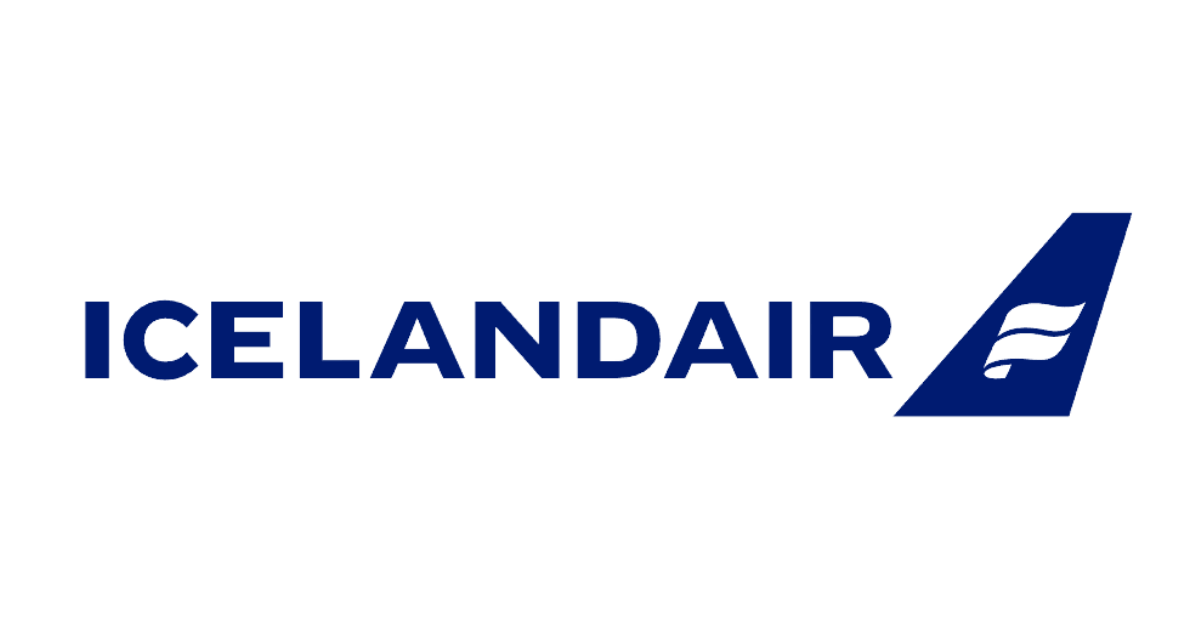 Icelandair's new logo
We also increased the sizes of the letters by 70% and took out the serifs because that was so 2006. Also, when the logo is very small, the serifs look like they're faults like they're smudges while the new type is more clear. We've also heard from designers that this is now easier to use so that change was a no-brainer.
The change to the new logo has definitely affected our brand awareness. There's now better visibility.
How about the changes to your color palette and your livery?
The overall visual brand is fresh, flexible and adaptable, colorful, surprising, spirited, and ambitious. It's also digitally driven, always curious, and with an Icelandic mindset.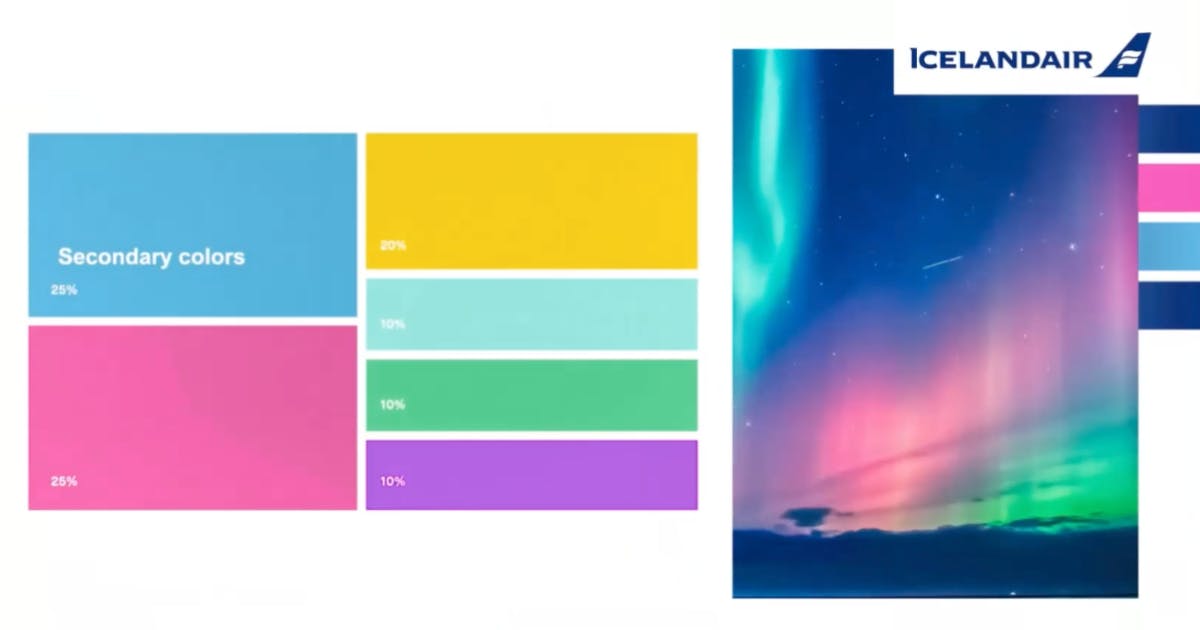 Icelandair's color palette inspired by the northern lights.
Because of the change in the media landscape, we had to have more colors in our palette. Before it was just white, blue, and yellow. That was basically the only colors that we used, but now we can be more colorful with the addition of secondary colors.
We're also currently in the process of changing the livery of our airplanes. We're now going from one design to multicolor designs on our liveries. We're going to have five different colors on the planes now.
Can you talk about the changes to other visual elements of your brand identity?
All our brand assets now are designed and created with motion. The old brand was just a still brand, there was no mention before of how you would animate a brand. But today, everything is animated.
We also make use of lines in our visual identity. All the lines you see in our brand is taken from crew ranking.