Bram Van Rompay is a former text servant in an ad agency. One epiphany later, he became an actual copywriter, constructing brands from the ground up. Colleagues praise him for his witty, yet utterly unmarketable puns, but it is clear –– after almost 20 years in the business –– he will not change his ways anytime soon. His modest upbringing fuels a sense of authenticity in his work, averse to hypes and trends.
Thomas Van Mol is a designer from Antwerp, bringing 10 years of work experience to the table. Interacting with clients, he sees himself as a sponge, soaking up all available input to –– at a later stage –– wring out sparkling and minty fresh brands. His eclectic taste in culture and his keen eye for the outrageous culminate in compelling designs.
Tell us a little bit about Duval Branding.
Bram Van Rompay: Duval Branding has been around for nine years. Our purpose is to make design more about than just design. When companies come to us, they have specific questions, but it's our job to dig out the most essential questions for them and of course, give them the right answers.
Often we see it's not just about design. It's about who they really are. That's the tagline we use as well –– 'become who you are.'
That's the starting point for every brand or rebranding we do: dig in and get to know the people on the other side of the table and detect what their needs are.
We are the ones who try to get their heads clear and make sure they have one general idea they can all stand behind and act accordingly to. That to us is the most important role we can play for them.
And then, of course, we translate or transfer those insights and analyses into designs, a graphic language, and all other deliverables you can imagine for a brand or a rebrand.
Walk us through your brand redesign with Imby. How was it conceptualized?
Bram: We first met them two years ago and they had the idea of doing something for pet owners who are concerned about the well being of their pets and think it's important to give them food that is in balance with the planet.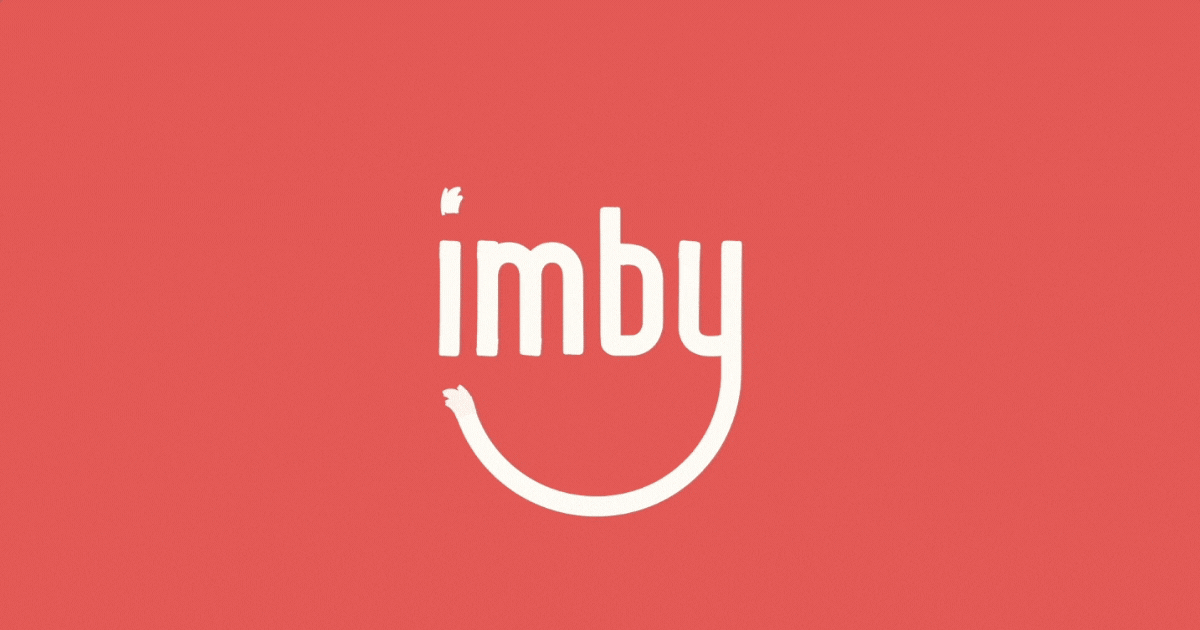 Imby logo
They came to us to have a look at their purpose and to really define what they would stand for and how to get their message across to their target group. They have a rather specific audience. They wanted conscientious people who don't just buy anything, but buy because they believe in something and want to contribute to a better world.
Thomas Van Mol: They also want to be a really honest company. They wanted to be really transparent in their communication because when you talk about CO2 emissions and carbon-neutral food, there's a lot of greenwashing going on. They knew they had to be really honest.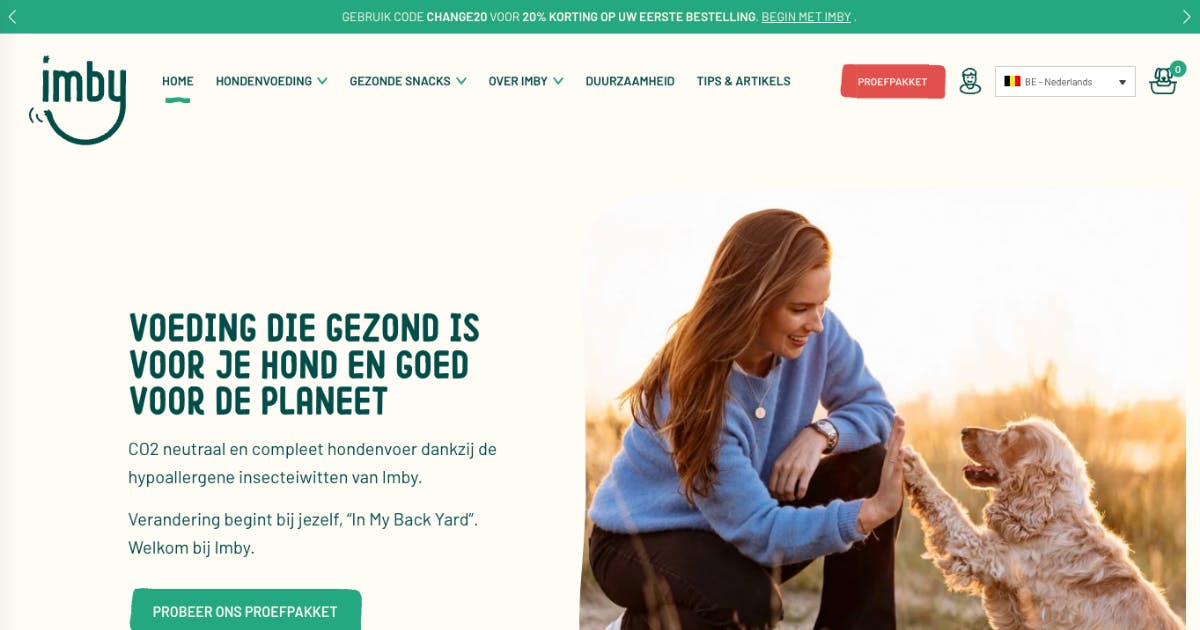 Imby homepage
When I was looking at how to communicate the style, an inspiration was the album 'Brothers' by The Black Keys. I really liked the straightforward way of communicating in the album, which is similar to this brand. It was really straightforward, transparent, and honest.
We just wanted to tell them what's in the food. We just wanted to say that it's insect food. That's not usual for people to hear, but we wanted that level of transparency: it's insects, but it's good for the planet. We wanted to help Imby convince people that what they offer is good for the environment, but not by using too many marketing words.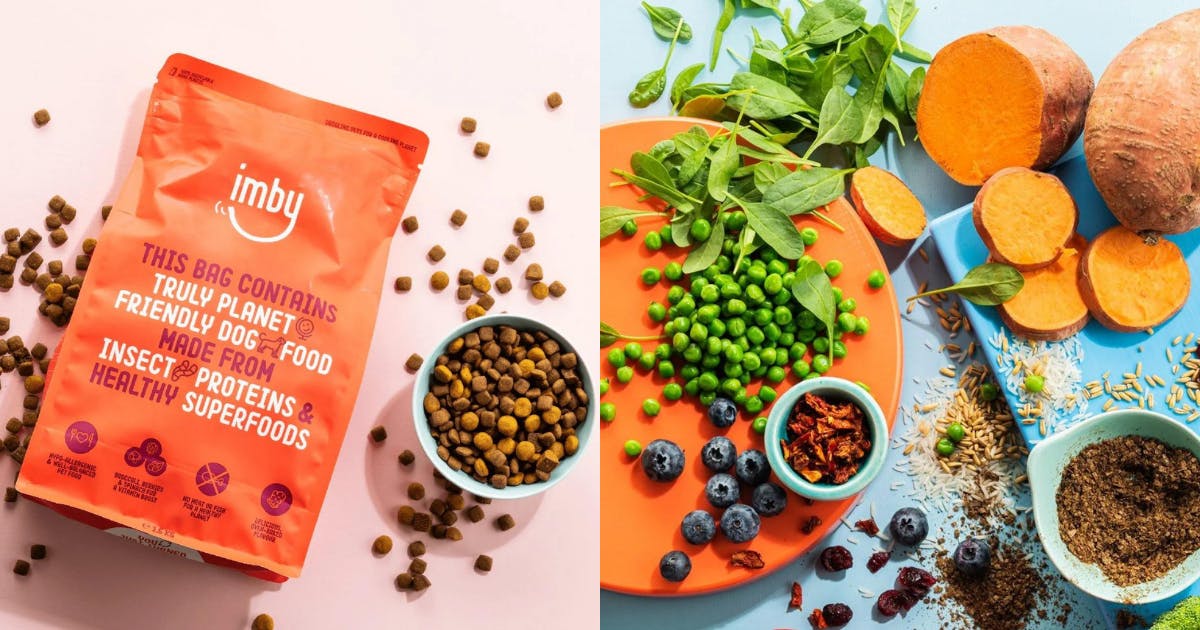 Imby packaging for insect-based food
Because we wanted to deliver their message in a copy way, in a more typographic way, we went in the direction of a more custom font. We wanted to make it more friendly because we're talking to dog owners and dog owners are lovely.
We used handwriting to make it more friendly. Little illustrations and icons to make it more dynamic in a bit of a rough way –– not too clean.
When it becomes too branded or too marketing-driven, you're not really connecting anymore. You get that distance between brand and consumer, and we wanted to narrow that distance as much as possible. - Bram Van Rompay, Copywriter at Duval Branding
Bram: Imby embraces honesty, and that's what triggered Thomas to get into that kind of style of communication, which infused or fueled the type of typographic design we used for Imby.
Were there surprising challenges that you encountered along the way?
Bram: The naming at first, but once that was set, it was going pretty smoothly.
'Imby' stands for "in my back yard" because a lot of people these days are 'nimby', or "not in my back yard". Those are the people who don't want to commit to anything, and we're looking for people who really want to commit.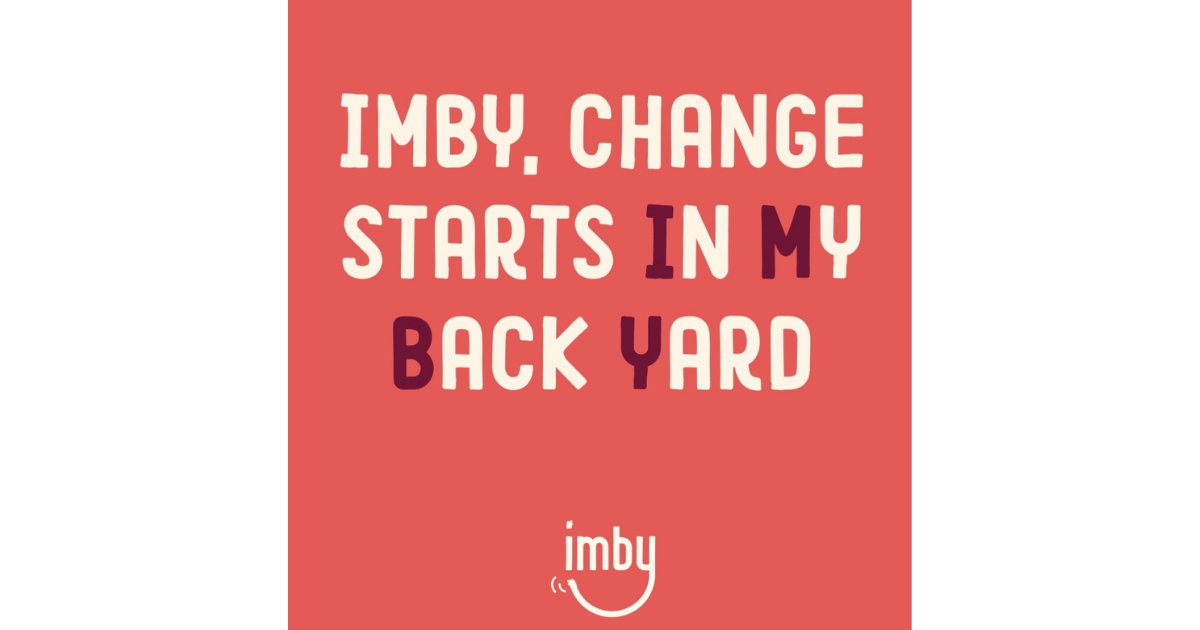 Imby means 'In My Back Yard'
And 'Imby' also has a fun ring to it. That's important because you want something that's dynamic and young to appeal to a young and dynamic audience.
As for challenges, when you're working with a startup, you see them really embracing the brand story and then when it comes to putting your product in the shelf, we did notice how they were using techniques they were more familiar with. That was the moment when we felt a little bit of tension. 
For us, we were playing our role as Brand Guardian. That's where we felt a bit like we had to overcome some disagreements, or recognize different point of views.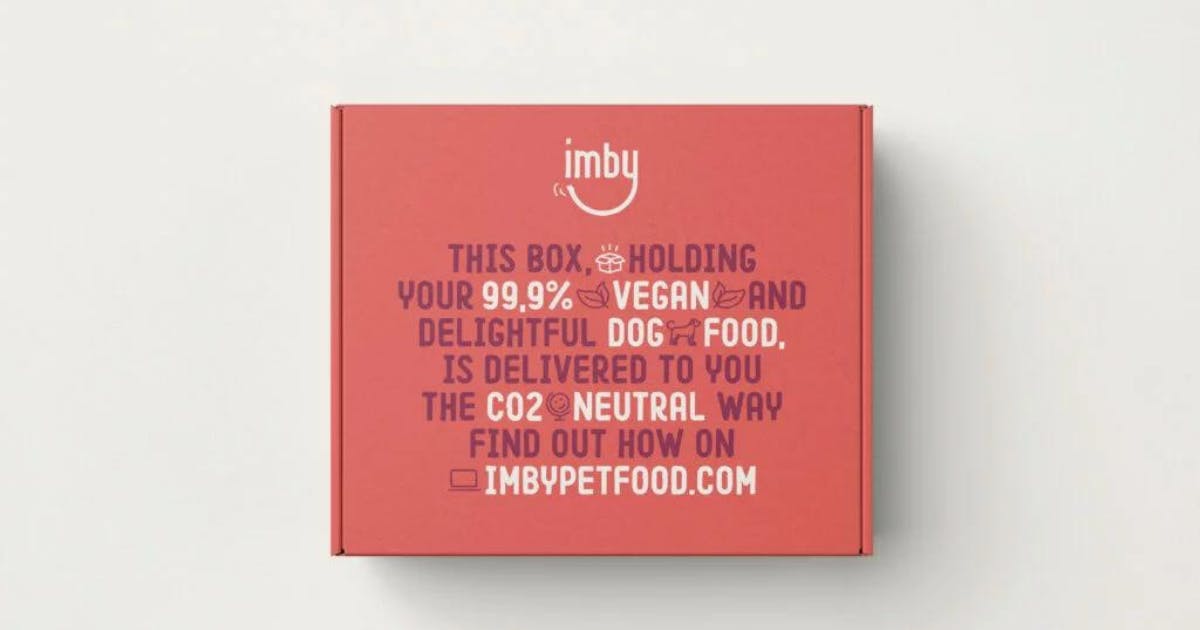 Imby box packaging
Of course, for us, it's easy to say that you have to stick to the story but for them, they have to put in the money; so we understand that there's a conflict of interest.
But we feel like if you stick to the story, you're going to make sales as well.
So that was where we got a little bit of friction, but it was still a very open relationship. Because they were a startup, they really trusted us. We're very happy to be part of a brand that is as fun as they are and also wants to contribute to a better world.
There was a lot of understanding from both sides. No real hiccups.
You say on your website that "this brand story starts a bold style." Could you tell us more about that?
Bram: The design idea of using a typographic style and getting the message really upfront by always starting with "this is", which is like a meta kind of technique, is to make it clear to people that you're really not hiding anything.
We were always thinking of how to make it as clear as possible for people –– what Imby is all about. Because after a while, when you work on something you become so familiar with, you tend to forget what makes it so special for people who come across it for the first time.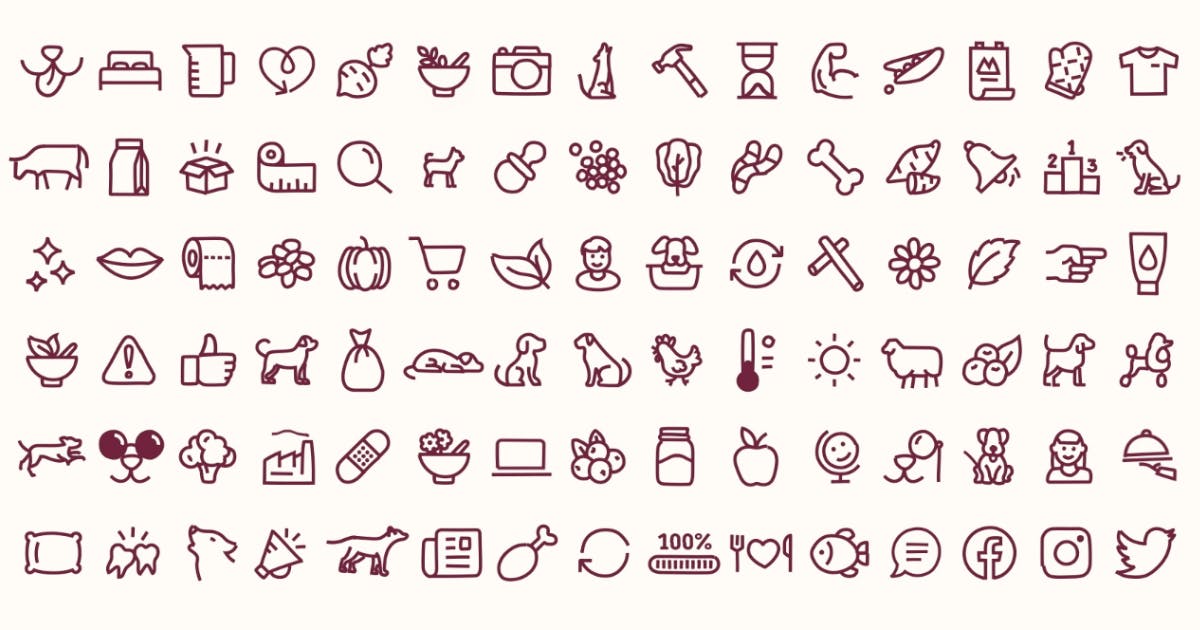 Imby icons
So for us, their story and their idea was so important in the entire design process. It really inspired us to be as bold as possible.
It's more upfront because you see the typography. The font is always nice, a little bit thicker. It's not as refined as you might find with other ordinary fonds. That's also something we deliberately chose to do like that, because it really speaks to you.
There's no doubt about what the Imby brand is, what it's about, what it stands for, and what it promises.
It's a bold decision to not do anything else; to just have the story and stick to the idea we decided together with the client. So that's a little bit of the boldness we also used in the way we designed the brand.
You also say that the new packaging "puts purpose in the picture." What do you mean by that?
Thomas: That's also, I think, in the way of how we communicate, in the type of graphic style. 
We use the purpose on the packaging. We say it's good for the planet. That's how we communicate. We tell the brand story on the packaging, then we include the flavors in a nice phrase.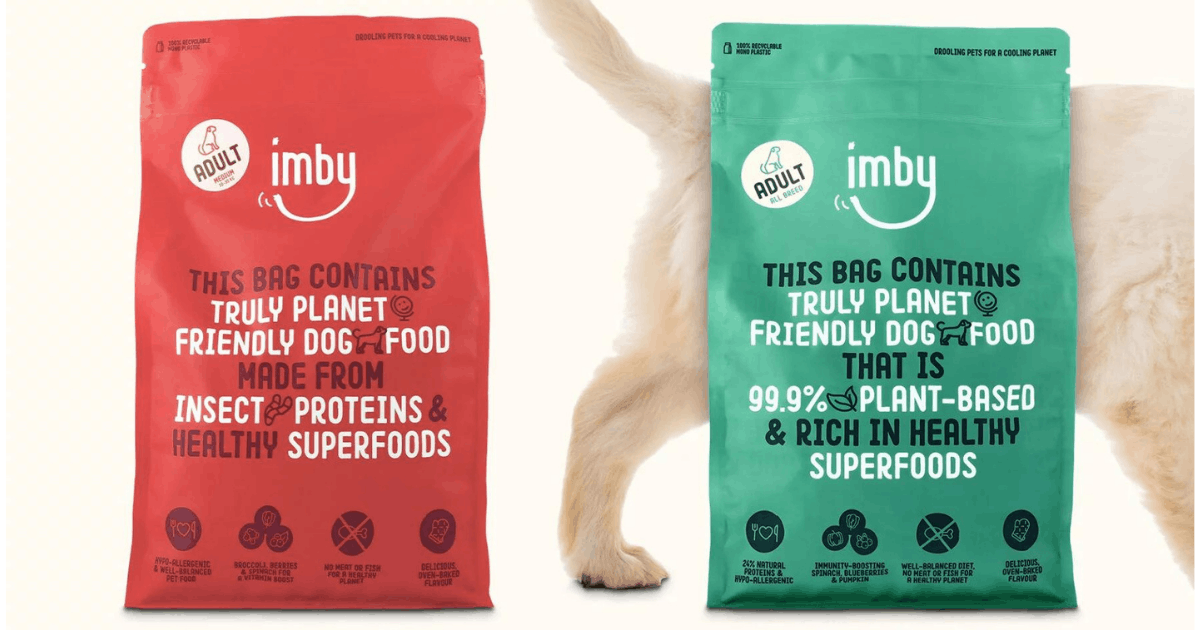 Imby packaging
So for each packaging, we have different sentences to communicate the USPs. I think that's how we communicate the purpose of the brand in the packaging.
Just be bold. Tell it like it is –– which is the transparent, honest way they wanted to communicate. Not too much distraction from the meaning they want to do for the environment and for the dog owners.
How did you land on this color palette, and what does it say about Imby?
Thomas: I used more bright, vivid colors that have a nice warmth to them. Friendliness is very important, as is the green because they want to be CO2 neutral. The green is your immediate connection to that part of the brand.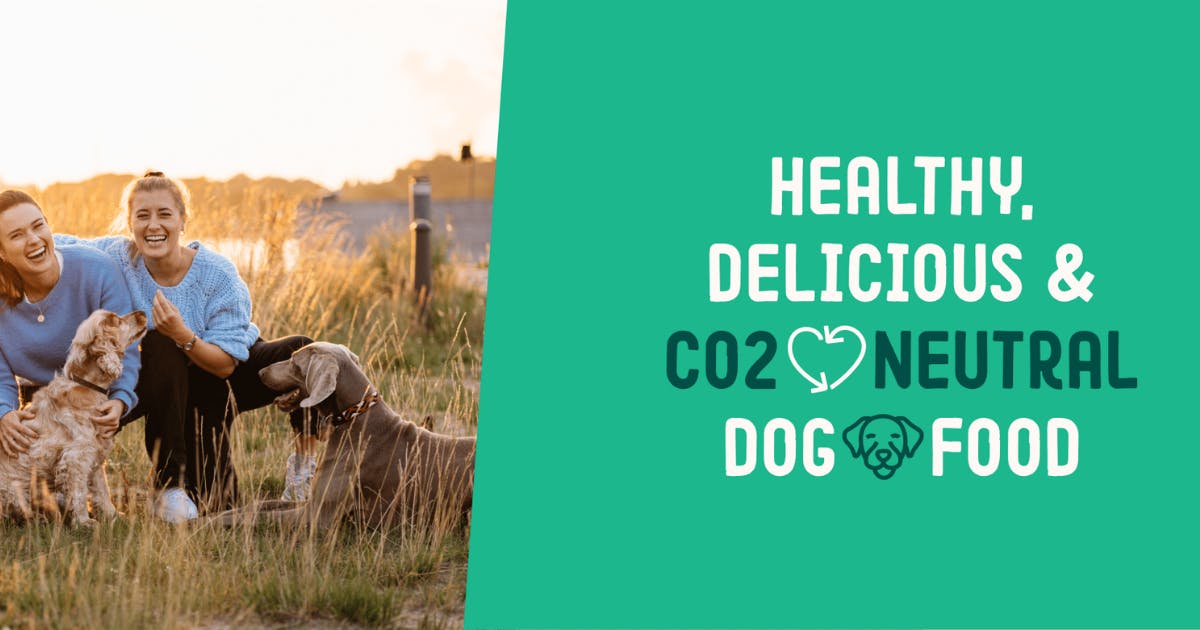 Imby cover photo
But then they wanted to start with the insects and the vegan-based packaging. We wanted to separate those two. The green obviously went to the plant-based product. With the red, we wanted to communicate warmth and friendliness, but not totally because insects could be really gooey and creepy.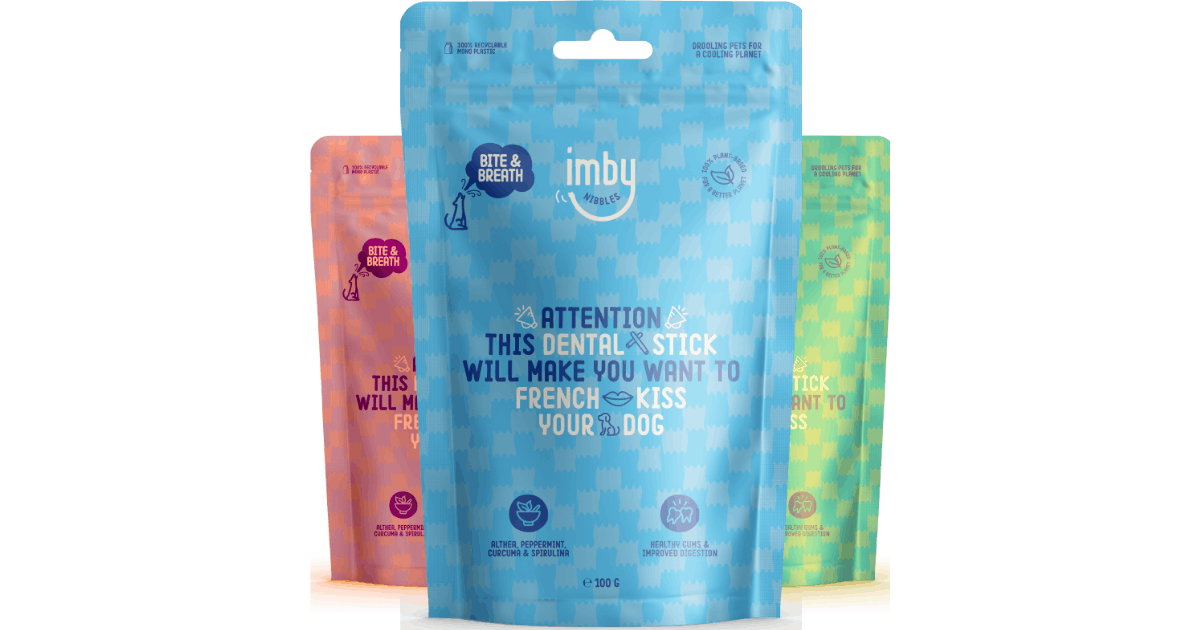 Imby snacks packaging
We also have more colors for their snack offerings. They're more screaming colors. They're more vivid, and a bit more snacky.
Lastly, do you have any advice for designers working on branding projects?
Bram: The great opportunity we got with Imby was being there right from the start. What you notice with startups is that they learn all kinds of things along the way. As they learn, they may be evolving and their focus is maybe shifting a little bit.
You notice that more of their marketing reflexes are coming. They're getting feedback from other companies, or distributors, and they're starting to change a little bit on how to present their product for people. This may be typical for startups unlike with brands that are maybe decades old, or a 30-year-old company thinking of rebranding. Those companies are more clear on how their approach should be.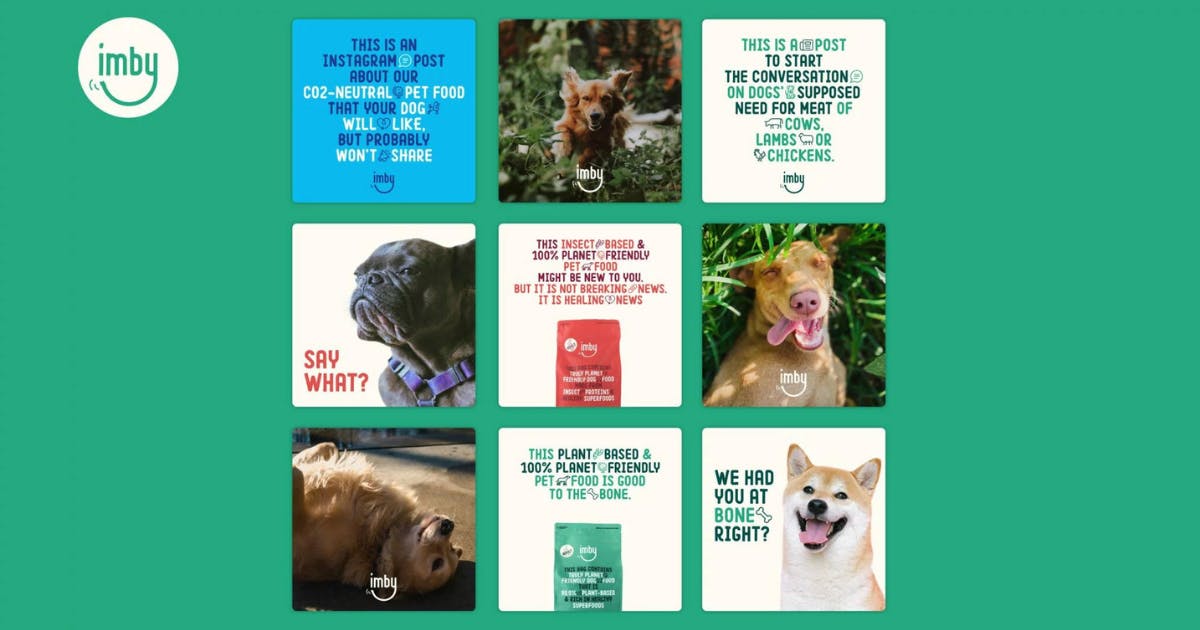 Imby social media posts
So that's maybe a difference between a startup and a firm that already has their fundamentals in place. We're not only doing the story and the design for the startup, we're also like their sparring partners for how to approach the idea.
It was a different role we had to play, but that's what made it so interesting and fulfilling. You get highs and lows but in the end, you have both made something you can all be proud of.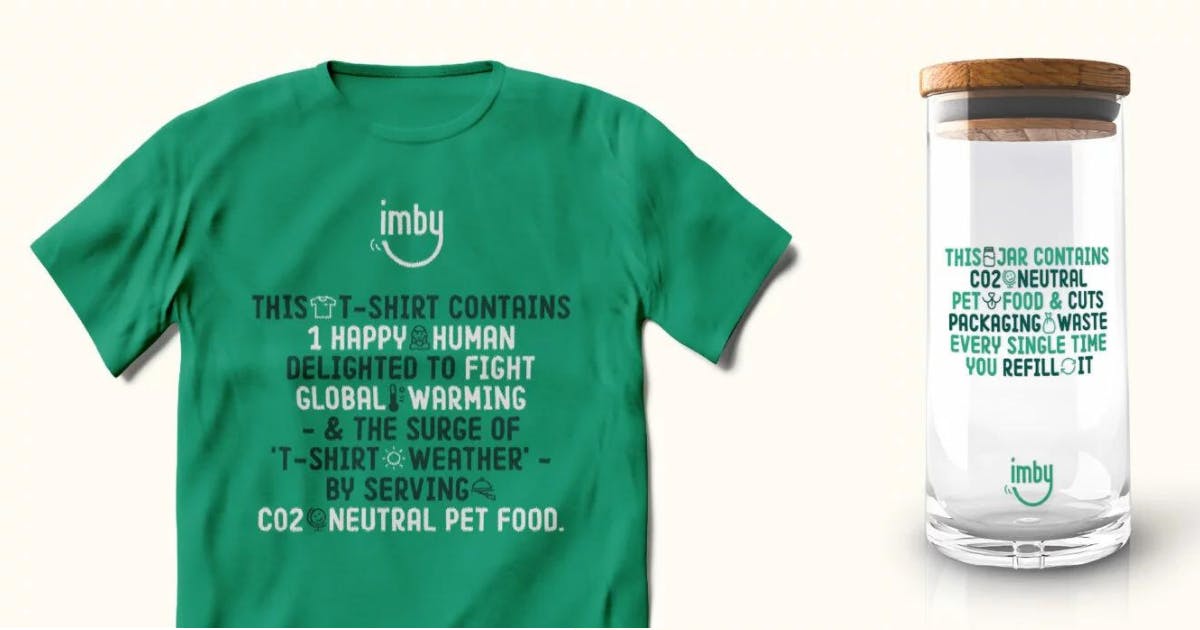 Imby merchandise
They came back to us for cat packaging as well. They've expanded the brand after just a year from just serving dog owners to now serving cat owners.
Thomas: One of our most important takeaways is that we listened very well. Through the process, we kept listening to better remind them what their purpose was, see how it matches with their brand story, and keep it in line instead of going in another direction.
When they make other choices, just keep listening.
Ask why did they do that? Does it match the brand story, or does the brand story need to be changed? When we're designing, we design from the concept and the brand story and if it doesn't match anymore with what I want to do, it's going to fail. 
Now, it's communicating well and it matches with what I want to do, so that's going to be easier for the customer to see and believe the brand.
Bram: In the future, and even now, they're doing things themselves. So we need to make sure that the foundation is there for them to build on.